Microsoft Teams is a business meetings, collaboration and video conferencing application from the techno-giant. It acts as a central hub and productivity tool for business conversations, video chats and document sharing across coworkers and teams.
If you don't use Teams, you may want to stop it from loading at the Windows startup. This will help you free-up resources and reduce inconvenience. There are several methods to accomplish it.
Microsoft Teams Features
Microsoft Teams provides various productivity features. Some of its core features are:
Ability to mention participants (For example, @john)
Ability to schedule meetings at specific time interval
Access control
Activity feed
Alerts
Audio/ Video conferencing
Easy bookmarking specific content
Easy file sharing between participants
Enables use of emojis, GIFs and stickers
Group chatting
One-to-one chat
Preinstalled in Windows 11
Search for contacts
Search for conversations
Static & configurable tabs with rich & interactive Web content
Supports integration with Microsoft 365
Disable Microsoft Teams from Starting-Up
Method 1: Using Program Settings
The default, recommended way to disable Teams from starting automatically is configuring its application settings.
Open Microsoft Teams.
Click on the Settings & More icon (three dots) on the top right.
Select Settings.
Click on the General tab.
Un-check the box "Auto-start Teams".
Method 2: Using Task Manager
Another way to disable Teams from auto-start is using the Task Manager. In the Startup tab of Task Manager, you will get a list of all programs loaded at startup.
Press Windows Key + X.
Select Task Manager.
Click on More details.
Click on the Startup tab.
Right-click on Microsoft Teams and select the Disable option.
Method 3: Using the Settings App
In Windows 11, you can also stop the Teams app from running using the Settings app.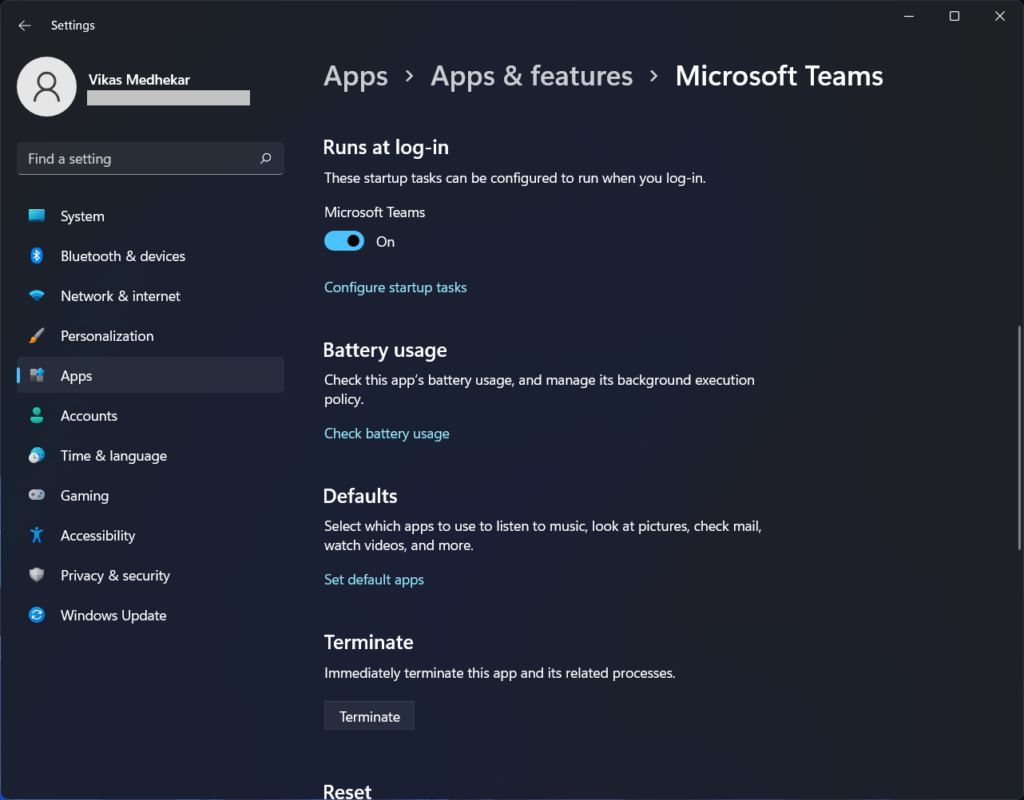 Click on the Start button, followed by the Settings icon.
Click on Apps tab on the left.
Click on Apps & Features.
In the applications list, look for Microsoft Teams. You can also use the Search Apps textbox.
Click the three dots menu icon in front of Microsoft Teams entry.
Select Advanced Options.
In the new screen, set the Runs at log-in toggle button to left (OFF position).
Method 4: Using Registry Editor
You can also stop Microsoft Teams from automatically starting-up by deleting its startup entry from the Windows Registry.
Important: Changing the registry entries incorrectly can result in an unstable operating system, applications and/ or data loss. It is recommended that you avoid this method or create a system restore point before making any changes to your registry.
Press Windows Key + R.
Type "regedit" and click on OK.
Locate the following registry path:

HKEY_CURRENT_USER\Software\Microsoft\Windows\CurrentVersion\Run

Right-click the Microsoft Team's string value in the right panel and select the Delete option.