Many of us set up a Wifi network on our computer and then forget about it. But when you need to set up Wifi on your smartphone, tablet or another computer, the password is essential.
While there is an option to reset your router by pressing that small Reset button, it's not recommended. You could lose your custom Wifi router configurations and may have to ask for a technician visit to re-configure your router. Without re-configuration of your router, you may not be able to wirelessly connect to the Internet (although you can connect using a Wired connection by directly plugging in the network cable, thereby skipping the router).
Thankfully, there are easy ways to get back your lost Wifi password. You can recover your password within a few minutes using the in-house Windows tools as well as third-party software.
Prerequisites
In this tutorial, we're assuming that you've already connected to the same Wifi Internet connection or connected in the past.
Method 1: Using the Wireless Properties Dialog
The easiest way to recover your lost Wifi password is using the Control Panel. Here's how:
Click on the Search icon on your Taskbar.
Type "Control Panel" and open that from the Search Results.
On the top right corner, set the View by drop-down box to Category.
Click on the Network and Internet category.
Click on the Network and Sharing Center sub-category.
Click on your Wifi name displayed on the right side of the screen.
It'll open up a new dialog named Wi-fi Status.
Click on the Wireless Properties button under the General tab.
Click on the Security tab.
Check the box named Show characters underneath the Network Security Key textbox.
After approving the UAC prompt, Windows will show your Wifi password in the Network Security Key textbox instead of masked black dots.
Method 2: Using Command Prompt
You can also recover your lost Wifi password using Command Prompt. The steps are as follows: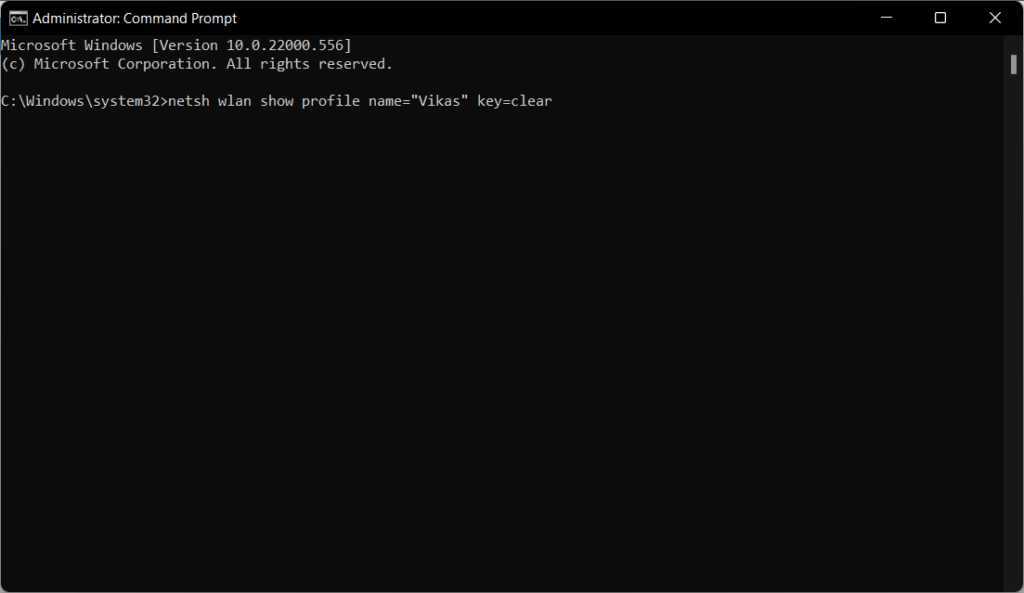 Click on the Search box on your Taskbar.
Type Command Prompt.
Open the Command Prompt with elevated privileges by selecting the Run as Administrator option.
Type the following command while replacing "[Your Wifi Name Here]" with the name of your Wifi connection:

Syntax: Netsh wlan show profile name="[Your Wifi Name Here]" key=clear
Example: Netsh wlan show profile name="Vikas" key=clear

Press Enter.
Command Prompt will display multiple lines of output. The password of your Wifi connection will appear under the Security Settings > Key Content.
Method 3: Using Third-Party Tool
Another way to recover your Wifi password is using a freeware, portable tool named Nirsoft WirelessKeyView.
Warning: Your Antivirus security software might display Malicious/ Trojan alerts while running this tool. Use the tool at your own risk. We do not take responsibility of any kind for third-party developers.
Go to the Nirsoft WirelessKeyView download page.
Scroll down to the bottom and click on the "Download WirelessKeyView 32-bit" or "Download WirelessKeyView 64-bit" depending on the Windows version you use.
After downloading the file, open it using 7-Zip File Manager or any other tool.
Double-click on "WirelessKeyView.exe".
Enter the Zip password provided underneath the download links.
The tool will display network passwords for your active and inactive wireless networks.
Right-click on your active wireless network and select Copy Key (ASCII).
You can also export all the passwords to a Text File (.txt). To do so, click on File > Export all items. Specify a new file name and then click on Save.